Sport & Recreation
Contact
Steph Clout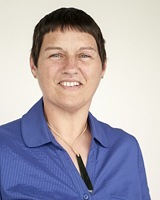 Email: steph.clout@aut.ac.nz
Phone: 09 9219999 ext.7709
Liaison librarian for Education (Secondary Teaching), Midwifery (South), Paramedicine and Sport & Recreation.
Sport and Recreation
Top resources for sport and recreation
SPORTDiscus with Full Text
Find full text journal articles covering sports medicine, exercise physiology, biomechanics, psychology, training techniques, coaching, physical education, active living, recreation, history, facilities and equipment.
Australia/New Zealand Reference Centre
Find New Zealand material on outdoor education, sport management, coaching, nutrition and physical education. Includes full-text articles, reference books and biographies as well as images.
Sports Medicine & Exercise Science in Video
Online videos in the areas of fitness and health assessment, disease management, injury treatment, nutrition, medical fitness, sport science, work-site wellness, exercise adherence, and much more.
Sport New Zealand
Find news and events, research and guidance provided by Sport New Zealand; the Government agency responsible for sport and recreation in New Zealand.