Finance
Contact
Sushila Parmanandam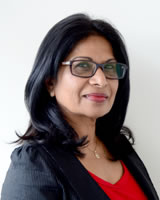 Email: sushila.parmanandam@aut.ac.nz
Phone: 09 9219999 ext.8510
Liaison librarian for Accounting, Economics, Finance and Marketing & Advertising.
Finance
Top resources for finance
Business Source Complete
Our primary database for finding peer reviewed journal articles, company and industry reports and more. Covering all business disciplines.
Australia/New Zealand Reference Centre
Explore Australian and New Zealand specific magazines, newspapers & newswires, reference books, and company information.
IMF eLibrary Data
The IMF's primary tool for international and domestic finance for most countries. Time series data is available for exchange rates, balance of payments, international liquidity, interest rates, prices and production.
NZX Company Research
Includes Australia & NZ Annual Reports Data, Daily Trading Price Histories since 1998, monthly forecasts histories, Major Shareholders, NZCSD Holders, Events Summaries, Brokers Earnings/Dividend Forecasts, Daily Stock Exchange.
Factiva
Find global news, business news, company news and industry information. Sources include Dow Jones and Reuters newswires, and key international news titles. Can't get in? Try again later.