Entrepreneurship and Innovation
Contact
Geraldine Hay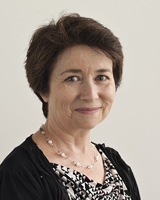 Email: geraldine.hay@aut.ac.nz
Phone: 09 9219999 ext.6326
Liaison librarian for Business Information Systems, HR Mgmt & Employment Relations, International Business, Management, MBA programme and Sustainable Enterprise.
Entrepreneurship & Innovation
Top resources for entrepreneurship & innovation
Business Source Complete
Our primary database for finding peer reviewed journal articles, company and industry reports and more. Covering all business disciplines.
Emerald
Covers the major management disciplines including entrepreneurship.
Ministry of Business, Innovation & Employment (MBIE)
Explore the Ministry's website on business growth with tools designed to assist businesses getting started, on how to grow and more.
StatsNZ – data for business
If you want customer or industry data for your business.
Passport
Business intelligence on countries, markets and companies. Provides users with historical statistics and forecasts, analysis of consumers' lifestyles, information sources, brand and company information, plus full-text market analysis.