Engineering - Built Environment
Contact
Anna Matich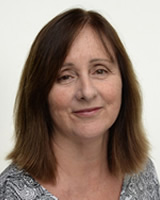 Email: anna.matich@aut.ac.nz
Phone: 09 9219999 ext.8511
Liaison librarian for Engineering and Computer & Mathematical Sciences.
Engineering – Built Environment
Top resources for engineering – built environment
ICE Virtual Library
Complete content from ICE Publishing, the publishing division of the Institution of Civil Engineers (ICE).
American Society of Civil Engineers (ASCE) Journals
Articles from peer-reviewed journals, with subjects including composites for construction, construction engineering and management, legal affairs and dispute resolution, materials in civil engineering, engineering mechanics, nanomechanics, micromechanics and environmental engineering.
BRANZ Find
This directory of New Zealand building and construction information is operated by BRANZ, an independent research, testing, consulting and information company providing services and resources for the building industry in New Zealand.
AccessEngineering
Authoritative, regularly updated engineering reference information.
Art & Architecture Complete
Find articles from academic journals, magazines and trade publications covering architecture & architecture history, art & art history, interior & landscape design and more.