Digital Design
Contact
Elwyn Sheehan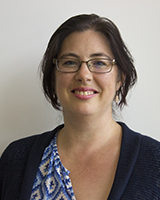 Email: elwyn.sheehan@aut.ac.nz
Phone: 09 9219999 ext.8914
Liaison librarian for Art & Design and Te Ara Poutama.
Digital Design
Top resources for digital design
ACM Digital Library
Scholarly journal articles and conference proceedings on technology and computer science, including SIGGRAPH and SIGCHI materials. Strong coverage of animation, virtual reality, motion capture, game design and interactive design topics.
IEEE Xplore
Scholarly journal articles and conference proceedings on electrical engineering and computer science. Strong coverage of the technical aspects of digital design, animation, and interactive technologies.
Lynda.com
Online skills training platform with thousands of videos covering technical design skills and design principles. Topics include 3D modelling and animation, visual effects, game design, programming, photography and video production.
Kanopy Video Streaming
Over 13,000 streaming films and documentaries from New Zealand, Australia and around the world. Includes visual arts and animation, film studies, experimental/alternative media, interviews with artists and more.