Chemistry & Biomedical Science
Contact
Philip Combs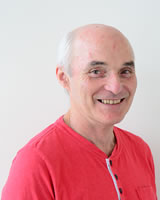 Email: pcombs@aut.ac.nz
Phone: 09 9219999 ext.8290
Liaison librarian for Language & Culture and Science.
Chemistry and Biomedical Science
Top resources for chemistry and biomedical science
Medline
Find scholarly articles and papers from over 5,500 journals in biomedicine and life sciences. Provides for improved searching with Medical Subject Headings (MeSH).
SciFinder
Chemical substance and reaction information for 20 million substances, including organic compounds, coordination compounds, polymers, biosequences, stereoisomers and alloys. Includes physical properties, millions of spectra and a drawing package.
Henry Stewart Talks: Biomedical and Life Sciences Collection
Seminar-style videos of experts from industry and academia designed for education and continuing professional development. Subject areas include biochemistry, pharmaceutical sciences, genetics and epigenetics.
Science Direct
Includes articles, books, reference works and images about biochemistry and genetics, chemistry and medical sciences.